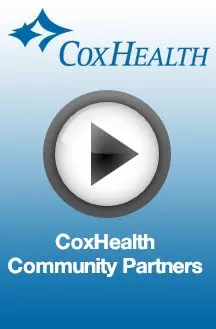 We continue to be the largest employer in Southwest Missouri. Because of this status, many businesses reach out to us each week asking to market their product to our employees. The CoxHealth Community Partners Program (CCPP) began a few years ago as an answer to those requests. We recently restructured the program and are now reaching out to our community extending an invitation for area businesses to join us in partnership. This is your opportunity to reach out to Springfield's largest employer, the community and beyond!
The CCPP is a unique one year partnership between the employees of CoxHealth and area businesses. The premise of the program is that we will promote your business to our $10,000+ employees in return for an exclusive discount you offer them. Not only do you receive exposure, but you are creating goodwill as CoxHealth employees recognize these offers only come to them.
Results have been amazing! Current and former Community Partners testify to a marked growth in business after joining in partnership with CoxHealth Foundation. You have a great discount? We have 10,000+ employees!
This opportunity is only available through the CoxHealth Foundation. Funds raised through the CCPP are used to extend the work of our mission which is to provide support for community health, prevention and wellness through philanthropy.
Below you will find a "menu" of choices we offer that will draw our employees to your business. These offers utilize Cox Connect, a daily online intra-web newsletter; Cox Connect is the "go to" place for all things CoxHealth. In addition, we utilize Connect Daily which provides daily updates and announcements sent via email to every employee. For CCPP promotions we also distribute your ads through our Foundation website, the Foundation's Facebook page and believe it or not, the old fashioned way, paper flyers to make sure employees who are not at a computer each day receive the announcements as well.
A new feature for our Community Partners to consider is our Foundation's app for smart phones. CoxHealth employees will have the convenience of referencing your offers right at their fingertips. The App will be divided into categories such as Vehicle Service and Parts, Children, Spas and Salons, Food, Home Décor, etc. for ease of reference to businesses and savings.
In-House Promotion:
Quarterly $400.00
12 month contract $1,400 (save $200)
Posting as a Community Partner with your discounted offer on Cox Connect
Posting as a Community Partner with your discounted offer on Connect Daily
Posting as a Community Partner with your offer on dev.coxhealthfoundation.com
Posting as a Community Partner with your offer on www.facebook.com/coxhealthfoundation
In-house mailing, paper copy of your discounted offer to departments who have employees without
daily access to a computer station
12 month contract includes quarterly updates on all of the above (Cox Connect, Connect Daily, Foundation website, Facebook and in-house mailings)
CoxHealth Foundation exclusive Smart Phone App Promotion (targeted to begin February 2013):
Quarterly: $400.00
12 Month contract: $1,400.00 (save $200)
Posting on CoxHealth Foundations' smart phone app. Details included will be the name of your
business, the details of your exclusive discounted offer for our employees, your phone, address
and your website address. Your business logo will be used as the icon for your listing
Featured Partners: For one month, your offer will be placed in our "Featured Partners" category,
which will be the first category in the listing: $150.00
App Sponsor: For one month your logo will appear exclusively on the app's main screen and your
offer will be in the Featured Partners category: $200.00
In-House Promotion AND Smart Phone App 12 month contract $2,400.00 (save $400)
Enjoy the benefits of all of the above at a discounted rate
Our Community Partners are obligated to:
Provide digital copies of your company logo and all graphics required for app sponsorship
Provide the Foundation with each quarterly promotional piece in pdf format
Provide the Foundation with paper/hard copies for quarterly distribution
Make complete payment prior to promotion
Honor CoxHealth employee discount throughout the term of your contract
Your CoxHealth partners include:
Cox South
Cox North
Cox Walnut Lawn
Oxford HealthCare
The Turner Center
Convenient Care Pharmacies
Ferrell-Duncan Clinic
Hulston Cancer Center
Wheeler Heart and Vascular Center
Bone and Joint Center
Meyer Orthopedic Hospital
The Meyer Center
Cox Monett
The Martin Center
CoxHealth Regional Services
CoxHome Support
CoxHealth Network
CoxHealth Home Parenteral Services
Cox Medical Center Branson
Cox HealthPlans
For information on multiple distribution discounts and donation options contact Laurie Soulsby at 417-269-7037 or laurie.soulsby@coxhealth.com