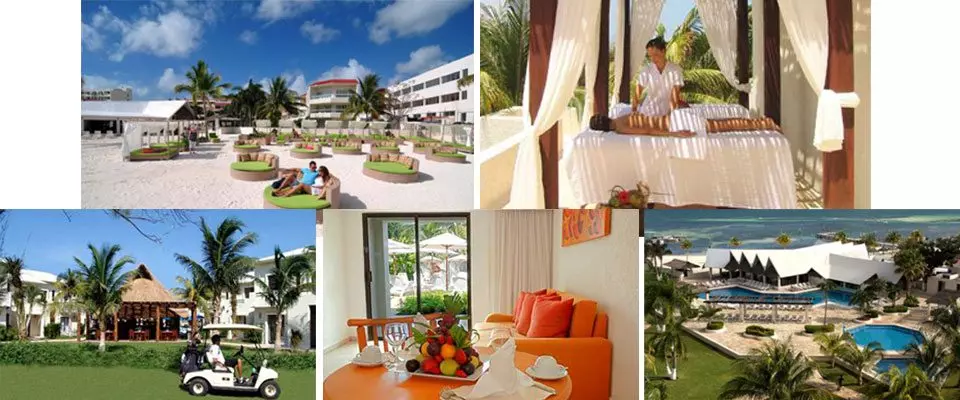 Raffle Tickets Available Now!
[add_to_cart item="cancuunraffle"]
PACKAGE INCLUDES:
5 Days / 4 Nights all inclusive accommodations for up to 2 adults and 2 children at either Laguna Suites Spa or Golf www.lagunasuites.com.mx OR Ocean Spa Hotel www.oceanspahotel.com
Stay at One, play at Four benefit (access to all 4 locations along the "Hotel Zone", shuttle service included)
$800 Delta flight gift voucher
Drawing will be held at Strike Out Sarcoma May 6, Andy B's
You do not have to be present to win. Online ticket sales close May 5 at noon!
Donation provided by: Premier Cancun Vacations a division of Sunset World Gives Back
Choose to stay at one of the 2 following options, however, you will have access to 4 locations on the Hotel Zone:
Option #1: Ocean Spa Cancun / Ocean Spa Hotel –
With its 151 comfortable rooms, surrounded by beautiful gardens and overlooking the Caribbean Sea, The Ocean Spa Hotel gives you the opportunity to enjoy a peaceful holiday, full of rest and relaxation. Located just 40 minutes from the airport and only 10 minutes from downtown Cancun, Ocean Spa Hotel is also very close to important shopping centers as well as other great attractions in the Hotel Zone.
Included Activities
Windsurfing
Hobie Cats
Kite Surfing
Kayaks
Yoga
Pilates
Latin Rhythms
Aqua aerobics
Horseshoes
Contests
Bingoz
*Paddle Boats (Extra Charge)
Activities with Additional Charge
Hacienda Andalucia The only Equestrian Center of its type in all of Cancun and the Mexican Caribbean. Provides an extraordinary equine cultural experience for guests of all ages.
Horseback riding tour
Mexican Dinner Show
Polo
Equine Therapy
Sunset Admiral Yacht Club & Marina Choose your own private yacht from our fleet so you can enjoy an adventurous or romantic private cruise.
Isla Mujeres Tour
Waverunners
Scuba Diving
Flyboard
Yacht Rentals
Fishing
Ya'ax Che Spa Ya'axChe means "ceiba", which is the tree of life for the Maya. The Ya'axChe Spa philosophy is based on the Mayan belief that we are all connected to everything around us: the universe, other human beings, and nature. The rituals at our spa are designed to bring back that balance of mind, body, and spirit with nature in a unique atmosphere with spacious facilities in six different locations.
Services
Body& facial treatments
Swiss shower & Jacuzzi
Sauna & steam bath
Beauty salon
Option #2: Laguna Suites
Offers Juice Therapy, free shuttle to the beach, Namaste Spa and more so you can have a healthy, stressless and hassle free getaway.
Hotel Features
Our luxuriously appointed suites are fully air-conditioned and equipped with cable TV, hair dryer, sofabed, and handicap facilities. Each suite contains an in-room safe for your valuables, and additional safety boxes are available without charge at the front desk. We provide daily housekeeping service. You can swim on the resort grounds in our own pool (complete with pool bar). Whether you go by bus or boat, the beaches are just 10 minutes away.
Hotel Accessibilities
Laguna Suites Golf + Spa is located in the heart of Cancun's vibrant Hotel Zone, close to all the action. Not far from Cancun's famous beaches. Swim, sail, surf and snorkel the Caribbean Sea's azures waters. Travel back in time visiting the spectacular Mayan ruins of Tulum, Coba, and Chichen Itza, one of the SEVEN WONDERS OF THE WORLD. All within easy day-trip range. Cancun's cosmopolitan shopping. lively nightlife and gourmet cuisine are enticing as well.
If you're ready for quiet time, make Laguna Suites Golf + Spa your own tranquile retreat. Located on the Pok-Ta-Pok Golf Course, this resort boutique nestles beside Nichupte Lagoon's shimmering waters. It is intimate and private. An ideal place to relax and unwind.
Hotel Hospitalities
NAMASTE SPA
A luxurious respite from everyday stress, where wellness experts offer refreshing body treatments to help you improve your inner and outer beauty. Relax your body and recharge your spirit and energy in this private environment Experience complete wellbeing through traditional healing, combined with sophisticated beauty systems and holistic products. Get a sun tan without sun burning by using Air-brush, the newest technique.
JUICE THERAPY
We offer Juice Therapy, a ground-breaking health routine that uses the fresh, raw juice of vegetables and fruits to nourish and replenish the body, providing balance, detoxification, and wellbeing. At Laguna Suites Golf + Spa we have carefully selected the freshest fruits, vegetables and grains from our region in order to provide you with a healthy and delicious choice of therapeutic and revitalizing juices.
Amenities
Welcome Center
Wellness Room Section
Travel Agency & Sightseeing
Airport Transfer Services
Car Rental
Spa (Namaste)
Babysitting Service
Laundry Service
Internet Access
Golf Club Access
Resort Donation details:
Over the past two decades, Sunset World has become a leading provider of affordable, quality Riviera Maya and Cancun vacations. We have been fortunate to maintain active, pampered, happy guests who return year after year which has enabled us to continue to do what we love: providing worldwide travelers with quality vacations in Mexico's Caribbean. However, at the end of the day, we realized that we needed to do more. Sunset World Gives Back is a program designed to promote social consciousness, while doing our part to help those in need. We thank you for allowing us to be a part of your event and hope that our donation will help raise the funds needed for the continuation of your valued programs. The vacation gift certificate has a value of $600.00. The vacation certificate includes five days and four nights of accommodations in Cancun, Mexico at either Laguna Suites Golf or Spa (www.lagunasuites.com.mx) or the Ocean Spa Hotel (www.oceanspahotel.com). The vacation is valid for travel by two adults and two children under the age of 12. Reservations are based upon availability; however, there are no blackout dates and no expiration date. Although our resorts do offer vacation owner memberships, the recipients of the vacations are under absolutely no obligation to attend a presentation during their stay. In Cancun, the resort where the recipients will stay during their vacation is selected by them, but the certificates include the "Stay at One, Play at Four" benefit. What this means is that although they will be staying at either the Ocean Spa Hotel or the Laguna Suites Golf and Spa, they will be able to enjoy the amenities at all four of our Cancun resorts: Sunset Royal, Sunset Marina Resort and Yacht Club (www.sunsetworld.net) Laguna Suites Golf and Spa and the Ocean Spa Hotel. There is a free shuttle that runs all day, every day, between all four of the resorts.
Upon reserving travel dates, the Strike Out Sarcoma staff will provide payment for the $89 reservation fee, $110 in hotel taxes as well as the cost to upgrade to include all of their meals, beverages so there is no cost incurred by the raffle winner for these items.
Additional details about the all-inclusive upgrade, as well as about additional nights and other benefits and promotions will be provided to the Recipients upon contacting the Reservations Department.
The Strike Out Sarcoma staff will provide Sunset World Vacations Gives Back with all pertinent contact information regarding the raffle winner/recipient so that the recipient can then make vacation arrangements directly with the donor.
Delta Air Lines:
Delta eGift Card can be applied toward your next Delta flight.
Redemption code and instructions will be provided to the raffle winner.
The certificate number and redemption code located in the digital Delta eGift Card are required for redemption.
eGifts and cards may only be used for the total purchase price of air transportation including taxes, fees and surcharges imposed on the air transportation.
They may not be used for additional fees including baggage fees or for any other products or services including upgrades, in-flight purchases, premium seating, mileage booster, SkyMiles Cruises, cargo, hotel stays or car rentals. If redeemed at delta.com, a maximum of three forms of payment including eGifts or Cards can be applied towards a single transaction regardless of the number of tickets purchased as part of that transaction.
If redeemed through any other method, a maximum of three forms of payment including eGifts or Cards can be applied toward a single ticket. eGifts and Cards can be used with other eGifts and/or Cards but cannot be used in conjunction with any other certificate, voucher or credit towards a single ticket.
eGifts and cards are not reloadable and do not expire. No service or inactivity fees apply.
eGifts and Cards, including those that are lost, stolen or destroyed will not be replaced by Delta for any reason.
eGifts and cards are not refundable and cannot be redeemed or exchanged for cash, check or credit except where refund or redemption is required by law.
Where eGifts or Cards are redeemed for a ticket, but travel is not taken, the value of the redeemed ticket after any applicable penalties will be provided in accordance with Delta Air Lines standard policy regarding ticket refunds.
eGifts and Cards may only be sold by Delta and Delta-licensed vendors. eGifts and Cards that are for sale or sold by an unlicensed vendor are subject to confiscation or voiding by Delta.
eGifts and Cards that are altered or obtained fraudulently are subject to confiscation or voiding by Delta.
Delta is not responsible for eGifts or Cards that are undeliverable or not received due to inaccurate delivery information provided by the purchases.
Delta reserves the right to refuse, cancel or hold for review transactions initiated using eGifts or Cards for suspected fraud, incorrect certificate or card denomination, or violations of these terms and conditions.
Delta may at any time and without notice change these terms and conditions or contract with a third party to administer the eGift program or the Card program.
Use of eGifts and Cards is subject to applicable law. In the event of a conflict between these terms and conditions and applicable law, applicable law will govern.
The laws of the state of Georgia without regard to its conflicts of law provisions apply to these terms and conditions and use of any eGift or Card.
Delta and its affiliates make no warranties, express or implied with respect to eGifts and Cars including express or implied warranty of merchantability or fitness for a particular purpose.
eGifts and Cards are issued by Delta Gift Cards, Inc. ("Delta"), an affiliate of Delta Air Lines, Inc., that is authorized to issue eGifts and Cards for sale by Delta and Delta-licensed vendors to be used toward the total purchase price of air transportation on Delta Air Lines marketed flights.