Latest Blog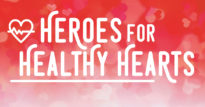 The heart is fragile. Not just in love, but in life. Today one in four people die from heart disease. It remains the number one killer of both men and women. The Wheeler Heart and Vascular Center provides outstanding care, but often our patients need a little more. Are you ready to be a Hero for Healthy Hearts?
Upcoming Events
Time: 5:30 pm
Location: St. Mary's Church, 200 Front Street, Pierce City, MO
Time: 6:30 - 10:00 PM
Location: Relics Event Center, 2015 W Battlefield, Springfield, MO 65807
One of life's great gifts is good health. Unfortunately, until we lose it, too many of us take it for granted. At CoxHealth we never take for granted that you depend on us to provide the highest level of quality care. Our dedicated staff of physicians, nurses and other medical specialists work to ensure that you and your family have every opportunity for good health. To support our efforts, join our donor family at the CoxHealth Foundation. Please call us at 417-269-7150 for for more information.