The CoxHealth Foundation was established in 1998 to carry on the tradition of philanthropy, begun in 1906, by generating current and endowed support for CoxHealth, its hospitals and affiliates including Cox College. Gifts made to the CoxHealth Foundation support financial grants for patient care including medications, hospital stays, rehabilitation, home and hospice support. The CoxHealth Foundation also raises funds to ensure the best facilities and technologies are available in our region. As a not for profit hospital, CoxHealth offers care regardless of a patient's ability to pay, capturing a large percent of our region's uninsured patient population. To align with this mission, the CoxHealth Foundation has a focus on meeting the needs of the medically underserved.
Additionally, the CoxHealth Foundation also works to promote health professions and raises funds for scholarships to assist in the education of our future caregivers. Thanks to our donors, CoxHealth is privileged to provide an accessible, comprehensive range of integrated health care services that are responsive to the needs of our patients and community.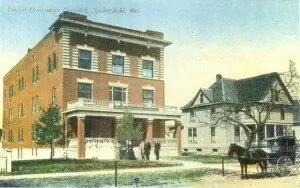 Due to the generosity of Mrs. Ellen A. Burge, Burge Deaconess Hospital opened its doors to the sick and infirm in 1906. That was the year the woman who eventually deeded her home to the hospital board became our first Philanthropist for Life.
The 30-bed, three-story hospital would receive a boost during the heart of the Great Depression when Dr. & Mrs. John Howard Nixon donated an additional 40 beds. But near the end of 1948 despair had spread and the hospital floundered. The decision to shut down appeared imminent. That's when Lester E. Cox made a personal donation and, together with 34 physicians, raised enough money to repair, replenish and restore the hospital's resources to give it a second chance. In 1969, Burge would be renamed for the philanthropist who helped provide Springfield and the Ozarks with the quality health care we have come to know today as CoxHealth.
These generous people and many others over the years have answered the call. Today, that legacy continues as we prepare to meet the health care needs of our community for this generation and those to follow.
CoxHealth Foundation Board of Directors
Mrs. Cindy Waites
Dr. Russell Detten, DO
Mr. Andy Dalton
Mr. John Foster
Mrs. Jeanette Hutcheson
Mr. Jeremy Loftin
Mr. Ken Meyer
Mr. Chris Nattinger
Dr. Jose′ Dominguez
Ms. Mary Beth Hartman
Mr. Sam Clifton
Mr. Tyler Watskey
Mr. Ken Teague
Dr. Charles Woodall, III
Mr. Andy Bartholomy
Mr. Kevin Williams